About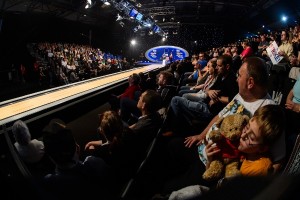 Established in 2000, the Weber Cup is the annual USA v Europe tenpin bowling challenge – the Ryder Cup of tenpin. Named after American bowling legend Dick Weber, the man who helped shape modern bowling, the event features two four-man teams competing over three days in a series of singles and doubles matches.
Since its inaugural event in Warsaw, Poland, the Weber Cup has taken place exclusively in the UK and in recent years it has found its home at the Metrodome in Barnsley, South Yorkshire.
After 15 years of the Weber Cup the score currently stands at 8 – 7 to the United States although Europe are in the ascendancy. The 2014 event saw the event go down to the final bowl of the final match as Europe won 17-16.
The 2016 Weber Cup expands to a race to 19 and will be broadcast live on Sky Sports in the UK and is also packaged as 18 x one-hour highlight shows by Matchroom Sport and syndicated around the world.
With a single lane arena, the Weber Cup is a unique environment for bowlers to compete. Coupled with 500-strong crowds, the tournament represents a tough pressurised proposition for the competitors.
Since 2006, the event has included players from the PBA in the United States and they have certainly helped to elevate the status of the competition.
Played over three days, all matches are over one game with total pin fall determining the winner. There have been six maximum 300 games in the history of the event; the holy grail for bowlers.